Today I am giving you an advanced look at A Dream of Home, the third novel in the Hearts of the Lancaster Grand Hotel series by Amy Clipston. This book is scheduled to be released on November 4, 2014.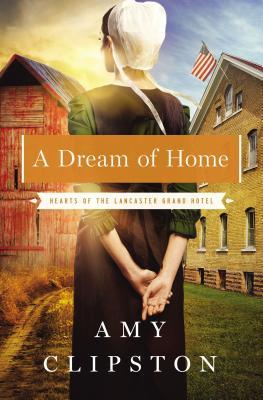 This is what AMY has to say about A Dream of Home:
Moving to Pennsylvania wasn't in Madeleine's original plans. She should still be in California and should have married her pilot fiance a year ago-but death has a way of changing everything.

Now the former Air Force flight nurse is living alone in Paradise, Pennsylvania, and working as a maid at the Lancaster Grand Hotel. She isn't exactly a widow . . . but she sure feels like one.

Saul Beiler isn't exactly a widower . . . but his wife is long gone. His eleven-year-old daughter, Emma, doesn't know that her mother fled the Amish community-and married another man-but she does know that her dat is lonely, and that a pretty young maedel just moved in next door.

Madeline's numb heart begins to thaw as she spends more time with the innocent and ever optimistic Emma. The stronger her friendship grows with the young girl, the more intrigued Madeline grows about the humble, strong, man raising her on his own.

But even as a strange attraction pulls Saul and Madeleine across a stark cultural divide, they-and everybody else-have to wonder: What could they possibly have in common besides heartache? Will love allow Madeleine to finally find the home she's been dreaming of all along?
MY THOUGHTS:
This week I have had the honor of reading and reviewing Amy Clipston's newest sequel for the Hearts of the Lancaster Grand Hotel… A Dream of Home.
Just for a bit of a recap, in A Hopeful Heart, Hannah meets Trey… they've both lost their spouses and although Joshua proposes, Hannah chooses to marry Trey and open a Bed & Breakfast in Paradise.
In A Mother's Secret, Joshua gains a family when he marries Carolyn and adopts her son Benjamin.
In A Dream of Home, Madeline and Saul fall in love…
I have to admit, when I began reading about them, I was shocked! I NEVER expected to read that Saul, who had courted Carolyn in A Mother's Secret, had lied to everyone about his wife – the truth was she had NOT died, but had left him to marry another man!
Hold on a minute… the Amish aren't supposed to get divorced… and if they do, they are not allowed to remarry… or are they?
I'm not giving anything else away…..
I loved the story… every bit of it! There were obviously a few twists and turns –to make it more interesting – plus Carolyn and Joshua get married with their families in attendance.
I am so thankful that Amy entrusted me with an advanced copy of A Dream of Home to read and post my review during this special month-long marathon along with the others in the series.
I've already pre-ordered my copy from Amazon… don't wait until the price goes up, click the link below and get pre-order your own copy now (release date is November 4, 2014).
Keep watching! Amy has worked very hard and she has a 4th book in this series coming out next year called A Simple Prayer. You can count on me to read and review it – as quickly as possible!
Happy Reading!
And don't forget to click below to find out how you can enter the BIG contest!…I didn't realize the comments would automatically be closed after 14 days… I've amended it, but it's simpler to go to this link and just "like" the post or "follow my blog"!
Click HERE for more from Zondervan.
You can click HERE to read more reviews (coming soon) and find other info on GoodReads.
Click HERE to pre-order the book on ChristianBooks and HERE for Amazon
Click HERE to visit Amy Clipston's website.
God bless you!
©Donna J. Mynatt 2014
Tagged: a-dream-of-home, Amish Fiction, Amy Clipston, © Donna J. Mynatt 2014, book review, Christian fiction, Hearts of the Lancaster Grand Hotel, Inspirational, review, romance-3, series, Zondervan