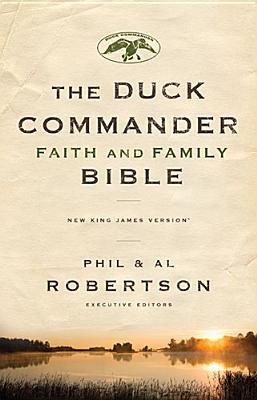 Today I'm reviewing the Duck Commander Faith and Family Bible (New King James Version) by Phil and Al Robertson.
Here is a brief synopsis from Goodreads:
The stars of the hit TV show "Duck Dynasty" are committed to upholding five core values both on and off the screen: faith, family, fellowship, forgiveness, and freedom.

With new stories and testimonials told from the perspectives of Phil, the Robertson family patriarch, and his son Al, a pastor with more than 22 years of experience, "The Duck Commander Faith and Family Bible" offers fresh wisdom on these values, what the Bible says about them, and how everyday people can apply them to their lives.

With relentless dedication to sharing the gospel and expanding Christ's kingdom, the Robertson family has become a driving evangelical force of the twenty-first century. "The Duck Commander Faith and Family Bible" unleashes the power of their practical insight into critical faith issues, founded on God's holy Word.

Features include:

Full text of the New King James Version Bible A personal welcome note from Phil and Al Robertson 125 articles on the top 25 Bible search topics Life application and scripture references supplement each article 30 days of life-changing testimonials Topical index and reading plans.
MY THOUGHTS:
Although the Duck Commander Faith and Family Bible might not be for everyone… it is, in my opinion, a great study Bible… and if you are a fan of the Duck Dynasty family, you will most certainly appreciate this Bible!
Duck Commander Phil Robertson and his eldest son Al Robertson share their faith with us… as a matter of fact, they share what they refer to as their family's five core values; these five core values have been the cornerstone of their lives:
1. faith
2. family
3. fellowship
4. forgiveness
5. freedom
This study Bible has many features, including a few special ones, including:
~ A personal welcome note from Phil and Al
~ 52 days… devotionals by Phil Robertson
~ 52 days… devotionals by Al Robertson
~ 30 days… LifeChangers
~ New King James Version – similar to KJV
This is an excellent Bible. I enjoyed the stories/devotionals; the LifeChangers are exactly that – life changers! I read one, then another, then another… they are labeled for 30 days, but it's too easy to read them all at one time – they're wonderful examples to everyone!
The Robertson family is a godly example to us all; placed throughout the Bible are headings, describing the scripture about to be read, such as "making the altar of incense" for Exodus 37:25-28 and "The LORD the Shepherd of His People for Psalm 23.
There are also articles by the Phil and Al Roberson—aptly called "Set Your Sights" which again are based on their five core values, with the value of each article being bolded at the top. At the end of each article there are corresponding scriptures that coincide with it.
In the back of the Bible is the index for the "Set Your Sights" articles and there are charts on the ABC's of Salvation, 30 days with Jesus, Ministry of Jesus, Parables of Jesus, and miracles of the Apostles. I especially enjoyed the 30 days with Jesus chart.
I prefer the KJV text, but I am happy to adjust to the NKJV text for the many advantages when using this for a study Bible.
All in all a wonderful addition to our library.
You can read more reviews and more about the book on Goodreads HERE
You can find more about Phil Robertson and his family on his website… HERE
Disclosure of Material Connection: I received this book free from the publisher in exchange for an honest review.
God bless you!
© Donna J. Mynatt 2014
Tagged: Al Robertson, © Donna J. Mynatt 2014, book review, Christian fiction, Duck Commander, Duck Commander Faith and Family Bible, Goodreads, NKJV, Phil Robertson