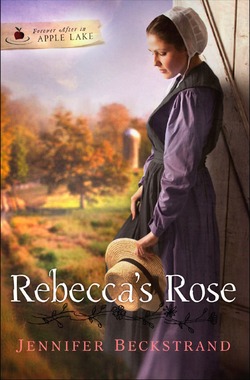 Rebecca's Rose is the second book in the Forever After in Apple Lake series by Jennifer Beckstrand.
Here is the synopsis for Rebecca's Rose:
With her mother ill, Rebecca Miller must take care of the house, the farm, and her younger siblings. Although she feels trapped at times, Rebecca is determined to fulfill a promise made to a dying friend.

Then she meets a boy with good looks and a mischievous glint in his eye who just might help her keep her vow.

Levi Cooper was born into an Amish community and lived there until his father died and his mother married an Englischer.

When shunned by their Amish relatives, they lived as Englischers. Now haunted by painful memories and on the path to self-destruction, Levi meets a lovely Amish girl who is looking for adventure.

Rebecca's growing attachment to Levi could lead to the loss of everything she holds dear.

And will the secrets he keeps separate them forever?
MY THOUGHTS:
Rebecca is skate-boarding past the store where Levi works when she crashes…
How was I to know that I would spend the better part of a day laughing… and crying… over this story!
Oh my, and what a tremendous story it is!
Rebecca's life has been changed drastically by her best friend's death; now she is determined to do all the things Dottie Mae never had a chance to do. When she meets Levi, she uses him to accomplish these goals, even the ones he thinks are too dangerous.
Rebecca refuses to listen to him when he tries to warn her, so rather than allow her to go off alone, he goes along with her plans, hoping to keep her safe.
Jennifer Beckstrand has this amazing talent in creating interesting… and inspirational… characters in her books. I love reading these stories, because being in God's favor is the primary goal of most, if not all, of the characters.
I lost myself so fully in this story, I didn't hear anything going on around me. When my daughter came to check on me, and saw what I was reading, she just smiled and went away – knowing I couldn't put it down until I was done. After all, she's read it, too.
A word of warning… when you get pretty close to the end, it gets even more tense (or at least it did to me). Take heart; the end is near… but it's totally worth it. Once I was done, I felt emotionally drained — and I repeat, it was totally worth it.
This is such an awesome series… I can't wait to read the next story… Miriam's Quilt.
And don't forget to click below to find out how you can enter Jennifer's GIVEAWAY contest!
Click HERE for the book page on GoodReads
And click HERE for Jennifer's website!
God bless you!
©Donna J. Mynatt 2014
Tagged: Amish Fiction, © Donna J. Mynatt 2014, book review, Forever After in Apple Lake series, Inspirational fiction, Jennifer Beckstrand, LOVE IT!, Rebecca's Rose