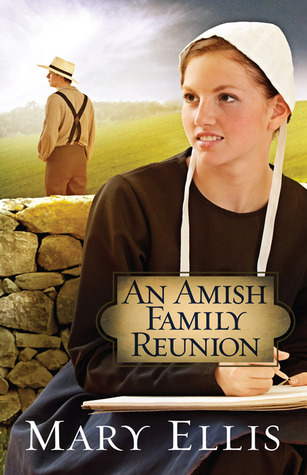 Today I'm reviewing An Amish Family Reunion, a fourth book in the Miller Family series by Mary Ellis.
Here is a brief synopsis:
During a rumschpringe visit to Niagara Falls, Phoebe Miller meets Eli Riehl, a young man who charms her — and everyone else — with his exceptional storytelling ability.

When Phoebe sketches scenes to illustrate one of his tales, Eli encourages her incredible talent, and together they embark on a lofty and unlikely business venture for two young Amish people — writing and illustrating a children's book.

Eli's kindness and appeal extend beyond his knack for words to reach inside Phoebe's heart. But he is an only son with five sisters, and when his father suffers a heart attack, Eli gives up his writing to assume responsibility on the farm.

Though willing to abandon his dream of becoming an author, he won't give up his beloved Phoebe.

Can their love for a good story develop into something that lasts forever, or will Phoebe's deep-seated fear of desertion stand in their way?
What ties bind an Amish family together – An Amish Family Reunion by Mary Ellis? – Tweet this!
MY THOUGHTS:
I don't want it to be over!
I really don't… I've gotten to know the Miller Family and all their assorted relatives and friends in the community — and I'm really going to miss them.
My daughter even teases me about wishing I could move to their community and spend time with Julia, Hannah, and the others. Oh, but that would be grand!
Unfortunately, all these wonderful people are just found in the novels by Mary Ellis.
Well, to be sure, there could be many people in an Amish community that are very much like these characters – and I just might find myself meeting some of them some day soon.
In the meantime, I guess I'd better say a bit more about how wonderful this series is…
I thoroughly enjoyed reading each novel, but especially this last one, An Amish Family Reunion, which is perfectly named. Julia is missing her children — and grandchildren — so much so that Simon tells her to contact each of them to come home for at least two weeks for a family reunion.
Reading through the story, we find that each son or daughter is having their own unique troubles… will a trip home help them to find a solution? You know I won't give away much, so you'll just need to read the book to find out what happens with Emma, Matthew, Leah and Henry, as well as their cousin Phoebe.
Yes! It just keeps getting better and better!
Mary — you've done it again… and I can't wait to begin reading your next series — the Wayne County series.
Who will make it home for "An Amish Family Reunion"? – Tweet this!
And don't forget to click below to find out how you can enter Mary's GIVEAWAY contest!
God bless you!
Copyright © 2013-2015 donnasbookshelf.
Tagged: An Amish Family Reunion, Copyright © 2013-2015 donnasbookshelf, Goodreads, Mary Ellis, The Miller Family Series