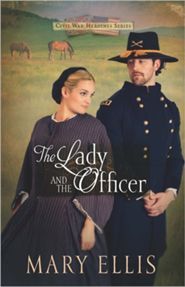 Today I'm reviewing The Lady and the Officer, the second book in the Civil War Heroines series by Mary Ellis.
Here is a brief synopsis:
Bestselling author Mary Ellis (A Widow's Hope) presents The Lady and the Officer, Book 2 of her new Civil War historical romance series, which tells the stories of brave women and the men who love them.

Serving for a brief time as a nurse after the devastating battle of Gettysburg, Madeline Howard saves the life of Elliot Haywood, a colonel in the Confederate Home Guard.

But even though Maddy makes her home in the South, her heart and political sympathies belong to General James Downing, a soldier from the North.

However, Colonel Haywood has never forgotten the beautiful nurse, and when he unexpectedly meets her again in Richmond, he is determined to win her. But while rubbing elbows with army officers and cavalry generals and war department officials in her aunt and uncle's palatial home, Maddy overhears plans for a Confederate attack in northern Virginia.

She knows passing along this information may save the life of her beloved James, but at what cost? Can she really betray the trust of her family and friends?

Maddy's heart is pulled between wanting to be loyal to those who care for her and wanting to help the man she believes is on the right side of the conflict. Two men love her. Will her faith in God show her the way to a bright future, or will her choices bring a devastation of their own?
Don't miss the Civil War Heroines series… by Mary Ellis – Tweet this!
MY THOUGHTS:
Love, Loyalty, and Espionage…
Recently I was introduced to Mary Ellis' Civil War series… and I discovered that Civil War romances are just as exciting and romantic as Amish or contemporary romances.
What an amazing series!
If you want to know how a lady can possibly live with all three — love, loyalty, and espionage — read The Lady and the Officer.
Mary Ellis introduces new characters in this second book of the series, with many of them union and confederate soldiers.
How difficult is must have been for Madeline Howard to leave her home — and James Downing, a general in the Union Army. At her aunt's home she meets Colonel Elliott Hayward of the Confederate Army.
Whoa! Talk about a difficult position to be in!
When Maddy learns of Confederate plans for the Union Army, will she pass it on in the hope of ending the war quickly? Even if it could save James, she would be betraying her family… and Elliot.
Mary's characters are full of life; they seem as real as the people I see read about in the news. They make the same mistakes and feel the same emotions.
If you enjoy reading historical fiction, don't miss this wonderful series!
How does Madeline choose between love and loyalty? Find out in The Lady and The Officer by Mary Ellis – Tweet this!
And don't forget to click below to find out how you can enter Mary's GIVEAWAY contest!
God bless you!
Copyright © 2013-2015 DJ Mynatt
Tagged: Civil War Heroines (series), Copyright © 2013-2015 DJ Mynatt, Goodreads, Mary Ellis, The Lady and the Officer