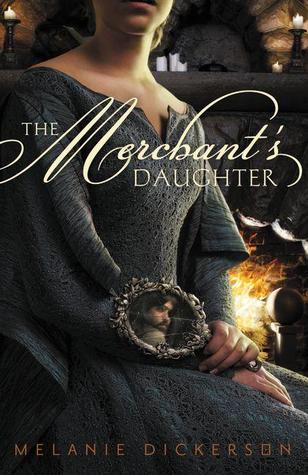 Today I'm reviewing The Merchant's Daughter, the second book in the Fairy Tale Romance Collection series by Melanie Dickerson.
Here is a brief synopsis:
An unthinkable danger. An unexpected choice.

Annabel, once the daughter of a wealthy merchant, is trapped in indentured servitude to Lord Ranulf, a recluse who is rumored to be both terrifying and beastly.

Her circumstances are made even worse by the proximity of Lord Ranulf's bailiff a revolting man who has made unwelcome advances on Annabel in the past.

Believing that life in a nunnery is the best way to escape the escalation of the bailiff's vile behavior and to preserve the faith that sustains her, Annabel is surprised to discover a sense of security and joy in her encounters with Lord Ranulf.

As Annabel struggles to confront her feelings, she is involved in a situation that could place Ranulf in grave danger. Ranulf's future, and possibly his heart, may rest in her hands, and Annabel must decide whether to follow the plans she has cherished or the calling God has placed on her heart."
Don't miss this Medieval Retelling of Beauty & the Beast… by Melanie Dickerson! – Tweet this!
MY THOUGHTS:
Oh my gosh! It's so romantic!
The Merchant's Daughter is so much better than the story of Beauty and the Beast… with wonderful, boisterous characters — that at times seem to be easily led astray (like so many of us).
I can honestly admit — I lost lots of sleep — but it was SO worth it!
Thankfully, it turns out… well, what can I say…
Ha! You know me well enough by now to know that I'm not going to give much away, especially the ending. That would totally ruin the whole book for you!
If you want to know how it ends you'll have to read it for yourself. And I heartily recommend you read it for yourself.
Yes, there's a beast, but a far more realistic one… a hero!
There are lots of twists and turns, with many surprises along the way — some good and some bad — but that's the way real life happens! That's just one more reason the stories by Melanie Dickerson are so believable — and awesome!
If you enjoy reading exciting, medieval fiction… with a happily ever after, don't miss this wonderful series!
Will Annabel become a nun… or stay with Lord Ranulf? – Tweet this!
And don't forget to click below to find out how you can enter Melanie's GIVEAWAY contest!
God bless you!
Copyright © 2013-2015 DJ Mynatt
Tagged: Beauty and the Beast, DJ Mynatt, Fairy Tale Romance Collection, Goodreads, Medieval Fairy Tale Retellings, Melanie Dickerson, The Merchant's Daughter