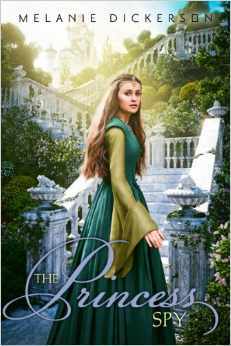 Today I'm reviewing The Princess Spy, the fifth book in the Fairy Tale Romance Collection series by Melanie Dickerson.
Here is a brief synopsis:
Margaretha has always been a romantic, and hopes her newest suitor, Lord Claybrook, is destined to be her one true love.

But then an injured man is brought to Hagenheim Castle, claiming to be an English lord who was attacked by Claybrook and left for dead. And only Margaretha — one of the few who speaks his language — understands the wild story.

Margaretha finds herself unable to pass Colin's message along to her father, the duke, and convinces herself 'Lord Colin' is just an addled stranger. Then Colin retrieves an heirloom she lost in a well, and asks her to spy on Claybrook as repayment.

Margaretha knows she could never be a spy — not only is she unable to keep anything secret, she's sure Colin is completely wrong about her potential betrothed. Though when Margaretha overhears Claybrook one day, she discovers her romantic notions may have been clouding her judgment about not only Colin but Claybrook as well.

It is up to her to save her father and Hagenheim itself from Claybrook's wicked plot.
Don't miss this Medieval Retelling of The Frog Prince… by Melanie Dickerson! – Tweet this!
MY THOUGHTS:
Margaretha's story is a wonderful version of The Frog Prince… it just might be the best one yet. There were many things I never saw coming — always a plus in my opinion — rather than the predictable ho-hum stories that many authors churn out today.
Poor Margaretha thought her future was settled; she would marry Lord Claybrook and live happily ever after. But when a man shows up, she is the only one who can speak his language. Even worse, he claims to have been attacked by Lord Claybrook!
In my opinion, The Princess Spy is an outstanding Christian Fairy Tale… but none of the ridiculous magic or nonsense; Melanie writes about good, strong Christian values!
The fact that The Princess Spy was a bit more difficult to read was, in fact, my problem. It's just that it begins very sad… as so much of life does. However, it is very intriguing and I was pulled into the story by the time I had reached the end of page two.
There was fast-paced adventure full of surprises and unexpected plot-twists — Melanie sure knows how to keep me on my toes!
Of course, I won't tell you how things turn out… but… I can tell you that Margaretha goes the distance!
If you enjoy reading exciting, medieval fiction… with a happily ever after, don't miss this wonderful series!
And don't forget to click below to find out how you can enter Melanie's GIVEAWAY contest!
God bless you!
© DJ Mynatt 2013-2015
Tagged: DJ Mynatt, Fairy Tale Romance Collection, Goodreads, Medieval Fairy Tale Retellings, Melanie Dickerson, The Princess Spy