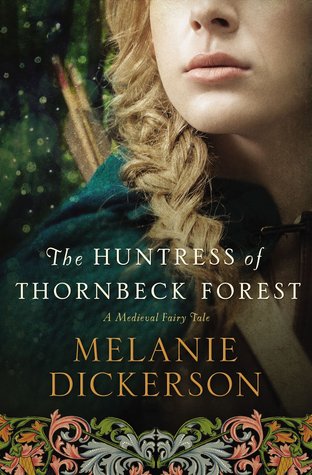 Today I'm reviewing The Huntress of Thornbeck Forest by Melanie Dickerson.
Here is a brief synopsis:
"Swan Lake" meets Robin Hood when the beautiful daughter of a wealthy merchant by day becomes the region's most notorious poacher by night, and falls in love with the forester.

Jorgen is the forester for the wealthy margrave, and must find and capture the poacher who has been killing and stealing the margrave's game. When he meets the lovely and refined Odette at the festival and shares a connection during a dance, he has no idea she is the one who has been poaching the margrave's game.

Odette justifies her crime of poaching because she thinks the game is going to feed the poor, who are all but starving, both in the city and just outside its walls. But will the discovery of a local poaching ring reveal a terrible secret? Has the meat she thought she was providing for the poor actually been sold on the black market, profiting no one except the ring of black market sellers?

The one person Odette knows can help her could also find out her own secret and turn her over to the margrave, but she has no choice. Jorgen and Odette will band together to stop the dangerous poaching ring . . . and fall in love. But what will the margrave do when he discovers his forester is protecting a notorious poacher?
Don't miss this Medieval Retelling of Robin Hood meets Swan Lake… by Melanie Dickerson! – Tweet this!
MY THOUGHTS:
Melanie Dickerson re-tells fairy tales better than anyone else… I've never read another fairy tale I've enjoyed as much as her Medieval Fairy Tale Retellings.
This is a wonderful adaptation of two such fairy tales — Swan Lake meets Robin Hood. This book is a perfect blend of stories, in my opinion. Melanie has done a wonderful job representing both in her newest book, The Huntress of Thornbeck Forest.
And I do so appreciate how Melanie writes amazing fairy tales without any of the magical or fantasy fluff, but is always certain to add the good, strong Christian values that we all need to read about today.
Somehow, Melanie has been able to bridge the gap between adult — and young adult — audiences, without losing any of the fairy tale quality that her books are famous for.
And… it goes without saying that I will NOT be writing any spoilers — or telling anything that would ruin the book for any of my readers! If you want to know what happens, you MUST read the book!
So… get out there, buy the book… and read it. I'm sure you'll enjoy it as much as I did. Just remember… if you enjoy reading exciting, medieval fiction… with a happily ever after, don't miss this wonderful series!
And don't forget to click below to find out how you can enter Melanie's GIVEAWAY contest!
God bless you!
© DJ Mynatt 2015
Tagged: DJ Mynatt, Fairy Tale Romance Collection, Goodreads, Medieval Fairy Tale Retellings, Melanie Dickerson, The Huntress of Thornbeck Forest