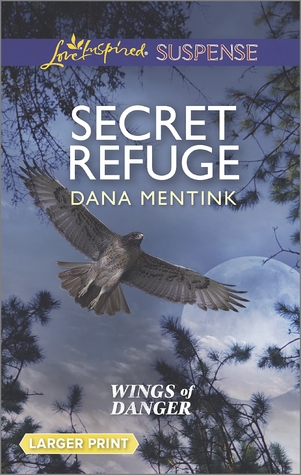 Today I am reviewing Secret Refuge, the second book in the Wings of Danger Love Inspired Suspense series by Dana Mentink.
Here is a brief synopsis:
HIS CHANCE AT REDEMPTION…

Former parole officer Mick Hudson blames himself for the death of Keeley Stevens' sister.

If he hadn't paroled a criminal, she might still be alive. When he hears that the suspected killer has been spotted in Keeley's hometown, he worries she might be the next victim.

Keeley doesn't want to take help from the man who could have prevented her sister's death, but she has more than herself to worry about.She'll do anything it takes to protect her family.

And Mick will risk his life to make sure that the past does not repeat itself.
Wings of Danger: The path to love is treacherous… – Tweet this!
MY THOUGHTS:
This is my first Dana Mentink novel… but I promise you, it won't be my last. I picked up this book – and literally (and physically) didn't put it down until I had read the last words.
Dana wastes no time in putting you squarely in the middle of the action. No sooner are you introduced to the two main characters – and you're thrown in the midst of a battle between the good guy and the bad guy!
It just never stops… and that's probably what makes it seem so real to me! I was totally lost in the story; holding my breath and hoping Keeley and I could get away from her sister's murderer. Hey, wait a minute… it's just a story – isn't it?
Dana Mentink writes amazingly believable stories… her characters obviously have real problems, including Keeley, whose sister was murdered, leaving Keeley to raise her special needs daughter as her own.
I can't wait to read the first book in the series, Hazardous Homecoming… and then of course I'll have to re-read the second book again. Then I'll be contacting Dana to see if she plans to write a third book in the series.
Dana writes suspense stories for Harlequin's Love Inspired Books. Incidentally, the only Harlequin books that I ever read are the Love Inspired books. Thankfully, there are many categories to choose from… suspense, inspirational, historical… check them out today. And DON'T miss out on those by Dana Mentink – I'll be posting more reviews for Dana soon.
Don't miss this amazing series!
Secret Refuge – book two in the Wings of danger series by Dana Mentink! – Tweet this!
God bless you!
Copyright © 2015 DJ Mynatt
Tagged: Copyright © 2015 DJ Mynatt, Dana Mentink, Love Inspired, Secret Refuge, Suspense