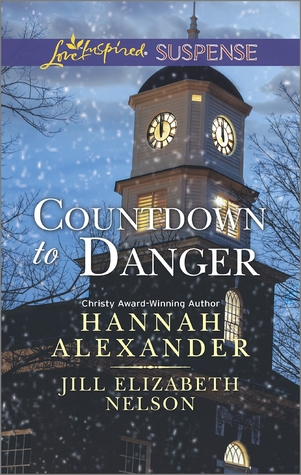 Today I'm reviewing Countdown To Danger by Hannah Alexander.
Here is a brief synopsis:
Alive After New Year by Hannah Alexander

An anonymous note demands millions of dollars—and in return, Lynley Marshall can keep her life.

Lynley turns to new police chief John Russell for protection. The handsome widower promises to keep her safe.

But time is running out as the clock ticks closer to midnight—and to the deadline for the culprit's demands.
Don't miss this riveting inspirational romance… by Hannah Alexander! – Tweet this!
MY THOUGHTS:
An anonymous note demands millions of dollars… Lynley Marshall can't imagine who would be so desperate – or so greedy – that they would threaten her life if her mom doesn't pay. Fortunately – or unfortunately – her mom didn't inherit millions. It was all left to charity – at her request.
Even in a short story, Hannah is able to write such an intriguing story that I just had to keep reading! I was surprised at how quickly I was caught up in the story and the very realistic characters. I love how Hannah added Data, the cat and Nina, the dog, to the story. Both pets were crucial to several scenes. People have real relationships with their pets – and these pets were awesome!
In another review I mentioned that Hannah's characters are very real, with real problems. This is especially true in this story… and I'm trying to hard to not give anything away, but the story is "just so good"!
Join me again in the town of Jolly Mill as John Russell and Lynley Marshall try to discover who is behind the threat – before it's too late…
If you enjoy reading mysteries, you will love this exciting story!
And don't forget to click below to find out how you can enter Hannah's GIVEAWAY contest! (hint: leave a comment below)
God bless you!
Review © 2015 DJ Mynatt
Tagged: Countdown To Danger, Hannah Alexander, medical mystery, Review © 2015 DJ Mynatt