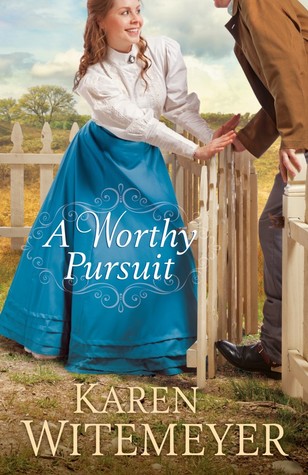 Today I am reviewing A Worthy Pursuit by Karen Witemeyer.
Here is a brief synopsis:
Stone Hammond is the best tracker in Texas. He never comes home empty-handed. So when a wealthy railroad investor hires him to find his abducted granddaughter, Stone eagerly accepts.

Charlotte Atherton, former headmistress of Sullivan's Academy for Exceptional Youths, will do anything to keep her charges safe, especially the little girl entrusted to her care after her mother's death.

Charlotte promised Lily's mother she'd keep the girl away from her unscrupulous grandfather, and nothing will stop Charlotte from fulfilling that pledge. Not even the handsome bounty hunter with surprisingly honest eyes who comes looking for them.

When the teacher he's after produces documentation that shows she's the little girl's legal guardian, Stone must reevaluate everything he's been led to believe. Is Miss Atherton villain or victim? She acts more like a loving mother than an abductress, and the children in her care clearly adore her. Should Stone break his perfect record?

Then a new danger threatens, and Charlotte is forced to trust the man sent to destroy her. Stone becomes determined to protect what he once sought to tear apart. Besides, he's ready to start a new pursuit: winning Charlotte's heart.
Can two enemies learn to trust each other before they both lose what they hold most dear? A Worthy Pursuit by Karen Witemeyer – Tweet this!
MY THOUGHTS:
What a wonderful story…
I admit, I had a few doubts at the beginning, but never enough to stop reading – or put the book down. At least until I finished the last page – and oh, what a wonderful ending!
Karen Witemeyer has written a remarkable story! It has action, suspense, romance, and a family aspect, which I always enjoy.
I especially loved the children… they were all adorable! Charlotte is determined to protect them, leaving Stone to re-evaluate everything he's been told – and expecting. I'd love to say more, but I am determined to not reveal anything, so you'll just have to read the book for yourself to find out what happens…
Karen created some irreplaceable characters – Stone is hard and tough, but you just know he's going to have a soft side. Charlotte is as prim and proper as you would expect, but she enjoys going toe-to-toe with Stone. The story moves along until you quickly find yourself at the end, wishing for just a bit more.
Don't miss A Worthy Pursuit!
Don't miss Karen Witemeyer's newest historical fiction novel… A WORTHY PURSUIT – Tweet this!

God bless you!
Review © 2015 DJ Mynatt
Tagged: A Worthy Pursuit, Bethany House, book review, Karen Witemeyer