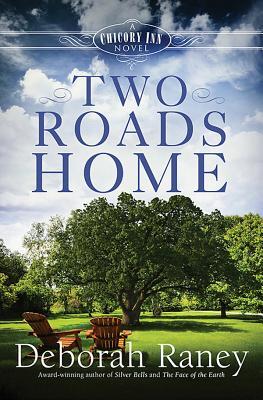 Today I am reviewing Two Roads Home, the second book in the Chicory Inn series by Deborah Raney.
Here is a brief synopsis:
Minor-but-nagging setbacks continue to sour Grant and Audrey Whitman's initiation into the world of innkeeping, but larger challenges brew when an innocent flirtation leads to big trouble for the Whitmans son-in-law, Jesse.

Jesse Pennington's friendly, outgoing personality has always served him well, especially in a career that has earned him and his wife Corinne a very comfortable lifestyle.

But Corinne and Jesse are both restless and for similar reasons, if only they could share those with each other.

Instead, too many business trips and trumped-up charges of harassment from a disgruntled coworker threaten their marriage and possibly put their three precious daughters at risk. With their life in disarray, God is tugging at their hearts to pursue other dreams.

Can Corinne and Jesse pick up the pieces of what was once a wonderful life before it all crumbles beneath them?
Welcome back to Chicory Inn… just when life calmed down a bit – round 2! – Tweet this!
MY THOUGHTS:
Deborah Raney writes the best family sequels!
Audrey and Grant Whitman take a leap of faith and turn their empty nest into the beautiful Chicory Inn – a cozy bed and breakfast – but their dreams may turn into a nightmare when their youngest daughter arrives, with a few secrets of her own.
No sooner do Landyn and Chase work out their problems, then Jesse and Corinne fall into a mess!
If you read the first book in this series, you'll love going back to "Chicory Inn" again.
I feel like I identified more with Corinne than I did with Landyn – I too, have been in her position and in my own opinion, it's a difficult time to go through – whether things work out or not. Marital disharmony is one of the hardest issues to affect a family. Deb did an amazing job handling this situation.
Will Corrine and Jesse be able to work out their differences? Will they end up closer than ever — or will it tear them apart?
I can't tell you how everything works out — I can't! No one likes spoilers — and I won't do that to my readers! Read the book… as a matter of fact, get them both, read the first, and dive right back in with the second one. You'll be glad you did.
If you want to read a great series, be sure to check out the "Chicory Inn" series…
Chicory Inn… where it's all about (sigh) family! – Tweet this!
God bless you!
Review © 2015 DJ Mynatt
Tagged: book review, Deborah Raney, series, Two Roads Home