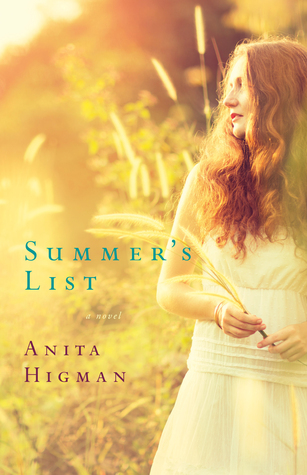 Today I am reviewing Summer's List by Anita Higman.
Here is a brief synopsis:
For so long, Stella was known for her beauty. Now, with her heart stripped bare, she must discover who she really is.

Former pageant queen Stella Varland doesn t trust beauty anymore after her divorce. Her appearance betrayed her and led to her brokenness so instead of being beautiful, now she tries to make beautiful things, but always falls short. So she keeps her passion for her secret art to herself and focuses on her interior design work. But if she doesn t get another job soon, she ll be stuck living with her parents.

Contractor Chase Taylor is determined to live a life of no regrets after losing his fiancee in a car crash. Now he lives life at full speed, striving to see how much he can accomplish. He knows if he slows down, he ll fall apart. So he returns home to Bayou Bend to renovate the town s old theater, and is shocked to learn former flame Stella is the designer for the project.

Forced to work together, Chase and Stella battle their chemistry and their pasts as they struggle to compromise and come together on a vision for the theater. Chase doesn t understand why Stella is such a subdued version of herself, while Stella doesn t get Chase s constant need for productivity and speed. Their wills clash as they attempt to hide their brokenness and their unresolved feelings for each other until Chase breaks through Stella s walls and convinces her to enter her mosaic tile art in a contest.

A near catastrophe, a fire, and a small-town gossip mill finally force both Stella and Chase to realize that they have a choice to hold on to the shards of their pasts, or surrender their fragmented pieces to the One who makes a beautiful masterpiece from the broken.
MY THOUGHTS:
Anita Higman is an amazing writer!
She doesn't mince words… or feelings… but delves deeply into the problems some people face, making her characters seem even more real to her readers.
I may not like reading about some of the sadder details, but I can't deny that this author did her research on the relationships between the characters, which I can't divulge, in this story.
I felt badly for Summer when she was trying to get through to her boyfriend… I've met people like him (or his character) and you never really know if they're listening to you – or not.
Martin and his brothers… well, again Anita must have done her research well. If you like getting embroiled in family matters, you'll love the secrets between Martin, Ivan and Desmond.
If you enjoy reading novels by Anita Higman, don't miss "Summer's List".
God bless you!
Review © 2015 DJ Mynatt
Tagged: Anita Higman, book review, Summer's List