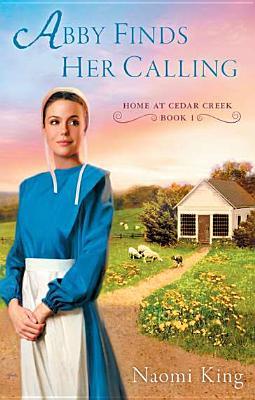 Today I'm reviewing Abby Finds Her Calling, the first book in the Home At Cedar Creek series by Naomi King.
Here is a brief synopsis:
The Lambright family's eldest daughter, Abby, runs her own sewing shop. There, she mends the town's clothes and their torn relationships.

But the town maidel has sworn off any suitors of her own because of her unrequited love for James Graber, who is about to marry her younger sister, Zanna…

On the wedding day, Zanna is nowhere to be found, breaking James' heart. Zanna has brought shame to her family, but there's more in store for them when they discover how far she has fallen.

Long-buried secrets come to light, and they test the bonds of the Cedar Creek community. Abby is at the center of it all, trying to maintain everyone's happiness.

But will she ever find her own?
Matters of the heart have a way of complicating the most clear-cut plans… – Tweet this!

MY THOUGHTS:
Is it silly to LOVE each book I read by this amazing author—just a little more than the last one?
Is it even possible? Duh! Of course it is… and I think I'm going to have a bit of trouble trying to describe just how wonderful I found Abby Finds Her Calling!
Abby is a wonderful, gut maidel, unlike her spoiled sister Suzanna, who insists on being called a silly nickname she chose when she was old enough for rumspringa. Zanna has caused all sorts of trouble—and her family stuck right in the midst of it.
Talk about twists and turns! There's bound to be plenty of those in this story. But I've probably already said more than I should have—so I'll leave the rest of the story for you to read for yourself. You're going to LOVE it!
Charlotte paints such a life-like picture; I was immediately drawn in at the very first page. I loved how she introduces many of the family right on the first page, while peaking the reader's interest at the same time. And when Zanna's brother smacks the table with his hand, I thought I heard the sound of dishes clattering.
Yeah, I know it's just a story, but I do so love getting lost in stories…
Don't miss this one!
You won't want to miss this terrific new series by Naomi King! – Tweet this!
And don't forget to click below to find out how you can enter Charlotte's GIVEAWAY contest!
God bless you!
Review © 2015 DJ Mynatt
Tagged: Abby Finds Her Calling, book review, Charlotte Hubbard, DJ Mynatt, Home At Cedar Creek series, Review © 2015 DJ Mynatt