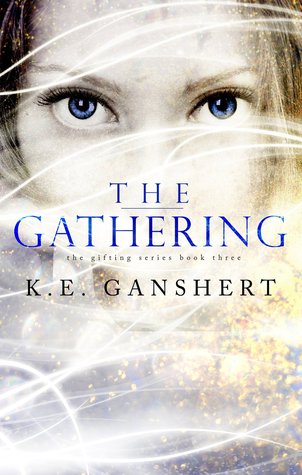 Today I am reviewing The Gathering, the third book in The Gifting series by K.E. Ganshert.
Here is a brief synopsis:
"Darkness is a tricky thing. Especially when it cloaks itself in light."

Luka isn't dead. He's not beyond saving.

Tess knows because she saw him with her own eyes. After what she saw, she's sure of one thing: If they don't rescue him soon, Luka won't be Luka anymore.

If only she could convince the other members of the hub.

They're not sure Tess saw what she claims she saw.

And they're preoccupied by the fact that their kind is being systematically eradicated. Answers lie in an ancient prophecy, one that revolves around a seventeen-year-old girl who never asked for any of this.

K.E. Ganshert's final installment in The Gifting Series brings readers on an action-packed journey through loss, sacrifice, betrayal, and the impossible choice between what we want most and what we know is right.
THE GATHERING… Don't miss this intriguing series (The Gifting) by K.E. Ganshert… – Tweet this!
MY THOUGHTS:
First, please let me say… if you really don't like YA dystopian, speculative, fantasy or supernatural novels, you can skip this series. I don't want any of my readers to be offended by something they'd rather not read.
But if you're open to the above types of novels, I think you might enjoy them.
Let me just say how incredibly talented Ms. Ganshert is… she has created a series – a very believable series – showing us what our world could be like in the not-so-distant future.
Scary, huh? Well, yeah, it is.
But the best thing about this series is that it's full of hope – for today… tomorrow… and beyond.
I find it amazing that I can too easily see our world becoming what I've been reading this week. If it is meant to be, it will happen; nothing and no one can prevent it.
If it is NOT meant to be, it will never happen. No. Matter. What.
I don't know if I believe how some people do about predestination. But I believe in God – and that He holds the past, the present, and the future in His hands.
OK – back to the book…
I can't say much about the specifics. I don't want to reveal too much. And there is SO much — and it is SO good. The characters… the world… the heart-pounding action…
Let me just say, it's worth your time. Don't miss it!
**spoiler alert** If reading about Ouija boards and a séance isn't something you want to do – even once – you might need to skip this series. I say "no" to both things, but I feel comfortable promoting these books. The author makes it clear that these things are not good – and they should be avoided at all cost.
Don't forget to click below to find out how you can enter the GIVEAWAY contest!
Darkness is a tricky thing. Especially when it cloaks itself in light… THE GATHERING by K.E. Ganshert – Tweet this!
God bless you!
Review © 2015 DJ Mynatt
Tagged: DJ Mynatt, K.E. Ganshert, Review © 2015 DJ Mynatt, The Gathering, The Gifting (series)