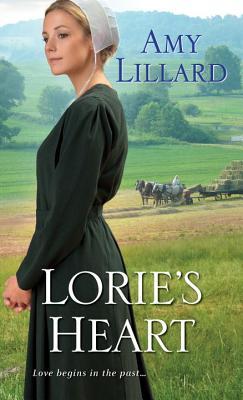 Today I am reviewing Lorie's Heart, the third book in the Wells Landing series by Amy Lillard.
Here is a brief synopsis:
Welcome back to Wells Landing, Oklahoma, the tranquil Amish community where still waters run deep and a brave young woman sets out to discover her faith, her family, and herself…
 
Lorie Kauffman is grief-stricken when her father passes away unexpectedly. But her heartache quickly turns to bewilderment when she discovers he'd been leading two lives—one of simplicity and hard work in Wells Landing, and one fraught with painful ordeals in Tulsa.
As she starts digging into her family's past, Lorie finds herself torn between the Amish world and the Englisch world—and she's no longer certain where she belongs…
Lorie knows that if she leaves Wells Landing, she may never be able to return. But what if her destiny lies in the outside world—the world her father knew so well?
Change is never easy, but with a bit of courage and the help of a handsome and kind-hearted Englischer, she just may find the peace, acceptance, and love she's been longing for…
MY THOUGHTS:
Love begins in the past…
Lorie Kauffman receives a shock, when news that her Dat was in an accident and has died. When she and her stepmom are taken to identify his body, she receives yet another shock… her dat has a tattoo!
Though she knows she should let it go, Lorie cannot let go of the sorrow of losing her father, nor the questions she has, such as why he had a tattoo, and owned a car.
Even though everyone is pushing Lorie to be baptized and marry Jonah, she has a secret — one that wouldn't be allowed after she joins the church.
Amy Lillard writes each book in this series in such a way that you can read any of them and enjoy the story. But let me encourage you to read the series… it is so much better to read each story as it happens, building with each subsequent story.
I loved this story! Lorie just wants to find out the truth about her father, and his family. What does eventually happen? I'll let you find out for yourself.
Don't miss this exciting series, found in the wonderful (fictional) community of Wells Landing.
Happy Reading!!!
… and don't forget to click below to find out how you can enter the GIVEAWAY contest!
God bless you!
Review © 2016 DJ Mynatt
Tagged: Amy Lillard, Amy Lillard Marathon, DJ Mynatt, Donna's BookShelf, Lorie's Heart, Marathon, Review © 2016 DJ Mynatt, Wells Landing (series)