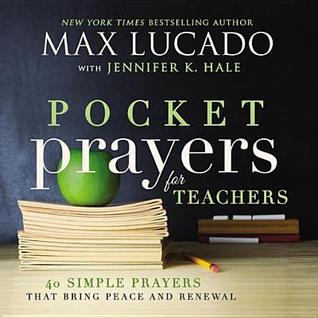 Today I am reviewing Pocket Prayers for Teachers  by Max Lucado and Jennifer K. Hale.

Here is a brief synopsis:

All the way from coloring inside the lines to calculus, teachers have given us the tools to thrive.

Where would we be without them?

But a teacher s job is often a difficult one.

Sometimes anxiety and exhaustion become the norm.

For those in need of a little peace and renewal, Max Lucado points to the Teacher who offered just that.

Pocket Prayers for Teachers contains forty scriptures and guided prayers written especially for those special people, who encourage and inspire our students.
MY THOUGHTS:
Max Lucado writes with humor, compassion, and respect. He speaks of the Bible, the disciples and how they asked Jesus to teach them to pray.
Then Max, with the help of Jennifer K. Hale, has chosen 40 very special Bible passages, and written out 40 specific prayers — especially for teachers.
After reading through the prayers and writing my review, I presented this book to a very special teacher.
I hope these prayers are as special to her — and you — as they are to me.
Happy Reading!
God Bless You!
Review © 2016 DJ Mynatt
Tagged: book review, DJ Mynatt, Donna's BookShelf, Jennifer K. Hale, Max Lucado, Pocket Prayers for Teachers, Review © 2016 DJ Mynatt