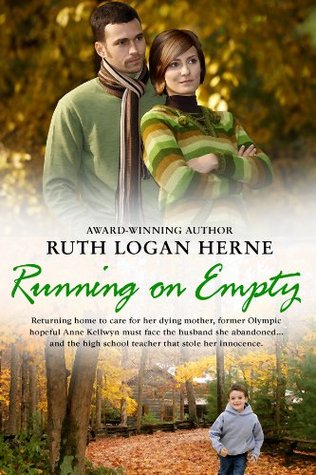 Today I am reviewing Running On Empty by Ruth Logan Herne.
Here is the brief synopsis:
Anne Kellwyn has a secret. It's cost her everything to keep it, including her marriage.

Now she may have to pay an even higher price to reveal the truth, but is she too late?

Back home to care for her dying mother, Anne is faced with the past she ran from and a future she can't have, a future that includes Joe McIntyre and the happily ever after she'd dreamed of years ago.

Chief of Police Joe McIntyre takes his position seriously. A lead-by-example Christian, he's put to the test when his ex-wife appears with another man's child after eight years of silence.

Anger and pride challenge his small-town-hero existence, driving him out of his comfort zone. Faced with choices he made eight years before, can he tackle the present to ease Anne's future so she's no longer "Running on Empty".
** This story is not available on paperback.
MY THOUGHTS:
This story wasn't easy to read . . . the subject is very delicate, but it was written with the utmost respect and care. I have such great admiration for the author, who tackled this sticky subject with greatness!
Anne Kellwyn has a secret . . . a secret she's been carrying around for too many years. Will she — can she — continue to hide it, or will she find the courage to reveal it to protect others?
Ruth Logan Herne found a way to create a story that needed to be told, without making it sensational or tawdry. My readers of inspirational books don't need to fear that this story is too explicit. On the contrary, it reveals just enough, without being offensive to readers.
If you're brave enough, don't miss this story of courage, faith and love — and start reading it today!
Happy Reading!!!
Blessings!
Review © 2016 DJ Mynatt
Tagged: DJ Mynatt, Donna's BookShelf, Review © 2016 DJ Mynatt, Running on Empty, Ruth Logan Herne