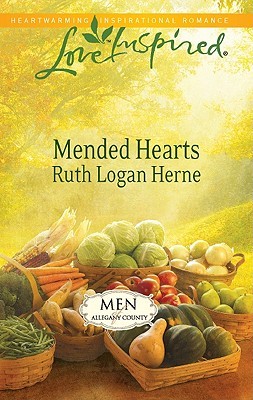 Today I am reviewing Mended Hearts, the 3rd book in the Men of Allegany County series by Ruth Logan Herne.
Here is a brief synopsis:
Taking Charge…Of Her Heart

High-powered businessman Jeff Brennan can't figure out why he's so smitten with the town's new librarian.

Hannah Moore is quiet, skittish — and wants nothing to do with him.

Yet as they work together on a fundraiser, Jeff resolves to discover why she came to the small New York town.

Is working two jobs and tutoring kids with special needs an escape for Hannah?

If so, Jeff is determined to show her that love can be the most powerful healing force of all.
Can an escape to a small town help Hannah find healing? Find out in "Mended Hearts" by Ruth Logan Herne! – Tweet this!
MY THOUGHTS:
Hannah Moore is quiet — the perfect choice for a librarian.
Jeff Brennan can't seem to make up his mind about her . . . why did she come back to a small town to take a part-time job in a tiny library . . . and why does she work another part-time job at a candy store . . . and what is she hiding about her past?
I know you don't expect me to answer any of these questions! I hope you've already picked up copies of this series, because you won't want to put this book down until you reach the very end.
Ruth Logan Herne continues to amaze me with her wonderful stories . . . and I feel confident you'll feel the same way once you've read them. So don't wait another minute — go get copies of this series for yourself. Even better, get all of her books, because once you begin reading books by Ruthy, you'll want to read them all.
I'll be back next week with another book review for this series.
… and don't forget to click below to find out how you can enter the GIVEAWAY contest!
Happy Reading!!!
Blessings!
Review © 2016 DJ Mynatt
Tagged: DJ Mynatt, Donna's BookShelf, Men of Allegany County (series), Mended Hearts, Review © 2016 DJ Mynatt, Ruth Logan Herne