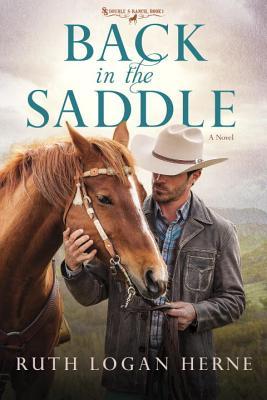 Today I am reviewing Back In The Saddle, the first book in the Double S Ranch series by the incomparable Ruth Logan Herne.
Here is a brief synopsis:
The Prodigal Is Coming Home

It's been a long time since Colt Stafford shrugged off his cowboy legacy for shiny Manhattan loafers and a promising career on Wall Street.

But when stock market manipulations leave him financially strapped, the oldest son of legendary rancher Sam Stafford decides to return to the sprawling Double S ranch in Gray's Glen, Washington.

He's broke, but not broken, and it's time to check in with his ailing father, and get his legs back under him by climbing into the saddle again.

He doesn't expect to come home to a stranger pointing a loaded gun at his chest— a tough yet beautiful woman that Sam hired as the house manager. Colt senses there's more to Angelina Morales than meets the eye and he's determined to find out what she's hiding…and why.

Colt's return brings new challenges. Younger brother Nick has been Sam's right-hand man at the ranch for years and isn't thrilled at having Colt insert himself into Double S affairs. And the ranch's contentious relationship with the citizens of Gray's Glen asks all the Stafford men to examine their hearts about what it truly means to be a neighbor.

And as Wall Street recovers, will Colt succumb to the call of the financial district's wealth and power—or finally the courage to stay in the saddle for good?

Back in the Saddle by Ruth Logan Herne. The Prodigal Is Coming Home. – Tweet this!
MY THOUGHTS:
Ruth Logan Herne is beyond amazing!
Somehow, even though I've read most of her books, she continues to amaze me with her wonderful stories, full of interesting, colorful characters, living in small towns and/or big cities.
Back In The Saddle was so much fun to read . . . Angelina Morales isn't happy to see Colt Stafford return to the Double S ranch – and she isn't afraid to show it. Colt comes crawling back, broke and hoping to step back into the place he held before he left home.
But will it be as easy as he thinks? You won't know until you read the book – and you should read the book. I'm sure you'll be as entertained as I was… all the way to the end.
Don't miss out on this fantastic new book from Ruth Logan Herne.
Get your copy today!
…  don't forget to click below to find out how you can enter the GIVEAWAY contest!
Happy Reading!!!
God bless you!
© 2016 DJ Mynatt
Tagged: Back In The Saddle, DJ Mynatt, Donna's BookShelf, Double S Ranch (series), Review © 2016 DJ Mynatt, Ruth Logan Herne