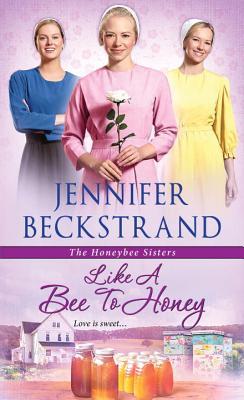 Today I am reviewing  Like A Bee To Honey the third book in The Honeybee Sisters trilogy, by one of my favorite authors, Jennifer Beckstrand.
Here is the brief synopsis:
Affectionately dubbed The Honeybee Sisters in their Wisconsin Amish community, the three Christner girls are devoted beekeepers who are coming-of-age—and discovering the sweet surprise of love…
 
Shy, skittish Rose Christner is more comfortable tending to the beehives on the family farm and keeping her aunt's unruly cats in line than attending social gatherings with the rest of the die youngie.

A childhood trauma and secret shame keep her heart under lock and key, and Rose just can't accept the sweet attention she's receiving from a handsome neighbor.

But the more she shies away from Josiah Yoder, the more their families sneakily plot to bring them together. And when a vandal who's been plaguing the Honeybee Farm starts targeting Rose, Josiah's steadfast protection—and patience—just may lead her into his waiting arms…
MY THOUGHTS:
Rose Christner doesn't like being around others, especially young men. Josiah Yoder has been caring for Rose longer than anyone knows, and he knows it may take many more years of waiting for her. What no one knows about Rose, is that she has a reason for her standoffish manner.
Now her family — and Josiah's family — is plotting to bring them together. Unfortunately, things don't always work out in those circumstances. What will happen? I'd tell you, but it would ruin the story for you — so you're going to have to read it for yourself!
When the vandals continue to plague the sisters, you'll be as surprised as I was at what happens! Believe me — you'll love these stories! Buy all three and read them in order, one after another.
And yes, I stayed up half the night to finish this story, too. It was just too good to put down!
Jennifer Beckstrand excels at writing entertaining, heart-warming Amish fiction. She weaves delightful characters and real-life drama in a small Wisconsin community with the perfect amount of humor. Time and again, her stories continue to bless me!
Happy Reading!!!
Blessings!
Review © 2016 DJ Mynatt
Tagged: DJ Mynatt, Donna's BookShelf, Jennifer Beckstrand, Like A Bee To Honey, Review © 2016 DJ Mynatt, The Honeybee Sisters (series)