Today I am reviewing The Honeybee Sisters series…

About the Books

Sweet as Honey …
Smart, kind, and good-hearted, the three Christner girls are affectionately known as The Honeybee Sisters in the beloved Wisconsin Amish community where, under the care of their aunt, they've grown into skilled beekeepers–and lovely, sought-after young women. . .
Though she has blossomed into a beauty, Lily Christner doesn't really believe it. Deep down, she still feels like a lonely, gawky teenager.
Maybe that's why she's all but promised herself to Paul Glick, the one boy who never teased her in her awkward girlhood–unlike Dan Kanagy, whose creative name-calling left her in tears many a time.
Now he's back in town after two years away–and being surprisingly sweet, suspiciously attentive–and making Lily unsettlingly yet deliciously nervous.
It seems Dan wants Lily's forgiveness–and her heart. But can he convince her–not to mention her protective schwesters and aendi–that despite the past, her future lies with him?…
MY THOUGHTS:
Poor Lily! I felt so badly for her. And I knew right away that Paul Glick would not make her happy. Somehow, he was too smooth (although that's not usually how I describe young Amish men) and I unsure about him. But . . . if I say anything more about him, I could give away too much, so we'll leave him — for now.
Then we have Dan Kanagy, who left town, only to return 2 years later. Dan is either fond of Lily — or determined to embarrass and humiliate her! One moment, he's doing something nice for her, and the next, he's calling her the same mean nicknames he called her when they were attending school. But Dan doesn't seem to have grown up at all, as far as name-calling goes.
I don't want to give away too much, so I'll try to be careful with my words . .  but one of Lily's sisters should have caught on to the name-calling . . . and warned her about it. Eventually, it all makes sense — and Lily finds her way. Will Dan every find a way to Lily's heart?
And yes, I stayed up half the night to finish this story. It was just too good to put down!
A Bee In Her Bonnet …
"Their bees produce the most delectable honey in all of Wisconsin. And the three Christner girls are fondly known as The Honeybee Sisters throughout their peaceful Amish community — where their spirited sweetness is attracting any number of hopeful suitors. . .
Lively, determined, and independent, Poppy Christner isn't about to let some vandal keep making mischief on her family's farm.
She's been outrunning boys and standing up for picked-on children ever since she was a girl — no matter how much her prideful, arrogant schoolmate Luke Bontranger insulted her.
So Poppy certainly doesn't need his interference now, especially since he's made it plain he prefers demure, ladylike companions.
In fact, if Luke doesn't stop helping her find the culprit — and growing humble and remorseful — she'll be forced to notice how handsome his change-of-heart is making him. And that could mean falling in love — maybe for a lifetime…

MY THOUGHTS:
The Honeybee sisters are back — and so are their vandals! Every time they turn around, something else has happened. Poppy Christner is determined to find the vandals — and make them stop.
When Luke Bontrager heard Poppy screaming as he's driving past the Honeybee farm, he came running to her rescue. But he didn't expect to find her jogging alongside an old car, with her fingers caught between the top of the window and the car door. After Luke rescues her, does Poppy thank him? No! She's angry with him for letting the vandals get away!
Doesn't this sound amazing already! Of course, it does. Jennifer had my attention from the very first sentence — and I truly didn't put the book down until I finished it. As a matter of fact, I stayed up past 2 A.M. to finish it. It's not the first time I've stayed up late to finish a book — and it won't be the last.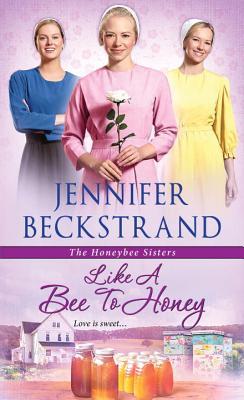 Like A Bee To Honey …
Affectionately dubbed The Honeybee Sisters in their Wisconsin Amish community, the three Christner girls are devoted beekeepers who are coming-of-age — and discovering the sweet surprise of love…
 
Shy, skittish Rose Christner is more comfortable tending to the beehives on the family farm and keeping her aunt's unruly cats in line than attending social gatherings with the rest of the die youngie.
A childhood trauma and secret shame keep her heart under lock and key, and Rose just can't accept the sweet attention she's receiving from a handsome neighbor.
But the more she shies away from Josiah Yoder, the more their families sneakily plot to bring them together.
And when a vandal who's been plaguing the Honeybee Farm starts targeting Rose, Josiah's steadfast protection—and patience—just may lead her into his waiting arms…
MY THOUGHTS:
Rose Christner doesn't like being around others, especially young men. Josiah Yoder has been caring for Rose longer than anyone knows, and he knows it may take many more years of waiting for her. What no one knows about Rose, is that she has a reason for her standoffish manner.
Now her family — and Josiah's family — is plotting to bring them together. Unfortunately, things don't always work out in those circumstances. What will happen? I'd tell you, but it would ruin the story for you — so you're going to have to read it for yourself!
When the vandals continue to plague the sisters, you'll be as surprised as I was at what happens! Believe me — you'll love these stories! Buy all three and read them in order, one after another.
Jennifer Beckstrand excels at writing entertaining, heart-warming Amish fiction. She weaves delightful characters and real-life drama in a small Wisconsin community with the perfect amount of humor. Time and again, her stories continue to bless me!
Happy Reading!!!
About the Author
Jennifer Beckstrand is the bestselling Amish romance author of The Matchmakers of Huckleberry Hill series for Kensington Books. Huckleberry Summer was nominated for the RT Book Reviews Reviewer's Choice Award and the 2015 RITA® Award, and Huckleberry Hill won the 2014 LIME Award for Inspirational fiction. Both Huckleberry Hill andHuckleberry Christmas appeared in Examiner.com list of top ten inspirational books for 2014.
Jennifer has always been drawn to the strong faith and the enduring family ties of the Plain people and loves writing about the antics of Anna and Felty Helmuth. Jennifer has a degree in mathematics and a background in editing. She and her husband have been married for thirty years, and she has four daughters, two sons, and four adorable grandchildren, whom she spoils rotten.
Guest Post from Jennifer Beckstrand
Lily, Poppy, and Rose Christner are known as the Honeybee Sisters in their Wisconsin Amish community because they keep bees and sell the honey they pull from their beehives. The orphaned sisters came to live with their aunt Bitsy when they were very young. Aunt Bitsy was an Englischer for twenty years, but she is trying to raise her nieces to be gute and devout Amish girls.
Still, Aunt Bitsy is a bit eccentric and has brought some of the Englisch ways with her to the Honeybee Farm. She wears her dangly earrings when she's in a bad mood, sports temporary tattoos just for fun, keeps a shotgun by the front door, and has a cat named Farrah Fawcett. (Bitsy simply adored "Charlie's Angels.")
With the honey they pull from their hives, the Honeybee schwesters make all sorts ofappeditlich, delicious, things to eat. Their baking and their beauty attract boys to the Honeybee Farm, so Aunt Bitsy has to keep her shotgun handy to ward off the would-be suitors.
Many of the Honeybee Sisters' recipes are included at the back of the three Honeybee Sister novels. Many more can be found in The Honeybee Sisters Cookbook available on Amazon and other online bookstores.
I hope you'll fall in love with the Honeybee sisters, Aunt Bitsy, and their incomparableBienenstich (Bee Sting) Cake—which recipe is included in both the cookbook and Sweet as Honey.
Here is a recipe the Honeybee Sisters would definitely make. My dear friend gave me some of these caramels for Christmas last year, and they are heavenly. The honey is used in place of the more-common corn syrup and gives the caramels a rich, deep flavor. My favorite thing about these caramels is the coarse sea salt that gives the caramels a salty crunch. Yummy!
Honey Vanilla Caramels
1 ½ cup sugar
½ cup honey
1 tablespoon vanilla extract
1 cup heavy cream
½ cup salted butter, cut into bits
Coarse sea salt
Line a rimmed cookie sheet with parchment paper. In a clay, enamel, glass, plastic, or stainless steel (non-reactive) pot, combine the sugar, honey, and vanilla extract. Mix everything together using a large rubber spatula or wooden spoon. Cook over medium-low heat until the sugar melts. When the sugar has melted, increase heat to medium and cook until the mixture caramelizes and is a deep amber color. Do not stir the mixture once it starts to boil. Instead, swirl it around occasionally with the pan's handle. (This will help the caramel cook more evenly.)
While the caramel is cooking, place the heavy cream in a small saucepan on low heat. As soon as it reaches a simmer, remove pan from the heat and set aside.
When the caramel has reached a deep amber color, reduce heat to low and slowly whisk in the bits of butter. Whisk well until the butter is completely melted.
Add the warm cream and whisk until smooth.
Turn the heat back up to medium and cook until the caramel reaches a temperature of 245°. Carefully pour the hot caramel onto the parchment-lined cookie sheet. Let it rest for about 8 minutes, then sprinkle with desired amount of sea salt.
Cool completely (about three hours), before cutting into squares and wrapping with parchment paper.
(Adapted from http://www.unegaminedanslacuisine.com)
Blog Stops
August 25: A Reader's Brain
August 25: Southern Gal Loves to Read
August 26: Smiling Book Reviews
August 26: Debbie's Dusty Deliberations
August 27: D'S QUILTS & BOOKS
August 27: Christian Bookaholic
August 28: Jeanette's Thoughts
August 28: The Power of Words
August 29: Blossoms and Blessings
August 30: A Baker's Perspective
August 30: Cassandra M's Place
August 31: cherylbbookblog
August 31: Quiet Quilter
September 1: Rhonda's Doings
September 1: Book Babble
September 2: Lighthouse Academy
September 3: Chas Ray's Book Nerd Corner
September 4: Bukwurmzzz
September 5: Donna's BookShelf
September 6: His Grace is Sufficient
September 7: Blogging with Carol
Giveaway
To celebrate her tour, Jennifer is giving away five copies of The Honeybee Sisters Cookbook! Click here to enter: https://promosimple.com/ps/a20d
Blessings!
Review © 2016 DJ Mynatt
Tagged: A Bee In Her Bonnet, DJ Mynatt, Donna's BookShelf, Jennifer Beckstrand, Like A Bee To Honey, Review © 2016 DJ Mynatt, Sweet As Honey, The Honeybee Sisters (series)