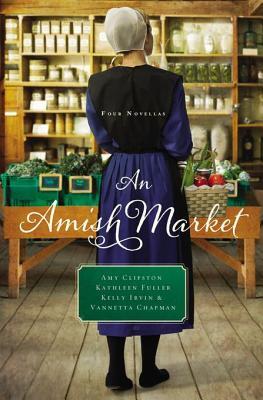 Today I am reviewing Sweeter Than Honey, one of four Amish novellas found in An Amish Market, by Kelly Irvin.
Here is a brief synopsis:
Shattering a jar of pickled beets wasn't the impression Isabella hoped to make on her first trip to the local Combination Store of Bee County, Texas.

But as embarrassed as she was by the accident, she didn't think it warranted the frosty reaction from the handsome manager of the store, Will Glick.

As she soon learns, though, Will's heart has been broken one too many times.

And now, for some reason, Isabella finds herself determined to be the one to repair that broken heart and renew his faith in love.
AN AMISH MARKET — Great stories by Amy Clipston, Kathleen Fuller, Kelly Irvin and Vannetta Chapman. – Tweet this!
MY THOUGHTS:
Kelly Irvin's Sweeter Than Honey is my favorite story in this compilation.
Grumpy, fussy old Will is as prickly as a cactus. When Isabella makes a mess – that Will cleans up – the first time she meets him, she's certain he wants nothing to do with her.
I was cheering her on, and hoping she would learn from her mistakes. After all, the small community of Bee County has already lost too many families – and young adults.
Will Isabella be able to find a home in Bee County? Read the story and find out…
Don't stop reading until you've finished this story!
God bless you!
Review © 2016 DJ Mynatt
Tagged: An Amish Market, DJ Mynatt, Donna's BookShelf, Kelly Irvin, novella, Review © 2016 DJ Mynatt, Sweeter Than Honey