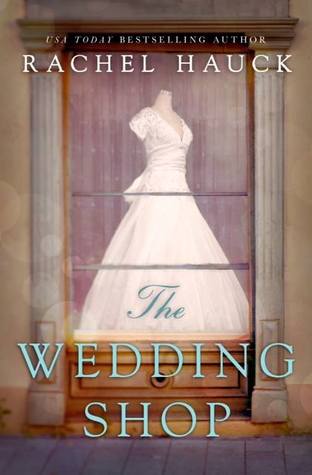 Today I am reviewing The Wedding Shop  by Rachel Hauck.
Here is a brief synopsis:
Two women separated by decades. Both set out to help others find their dreams when their own have crumbled.

It's the early 1930s, but Cora Scott is walking in stride as a career woman after having inherited her great aunt's wedding shop in Heart's Bend, Tennessee, where brides come from as far away as Birmingham to experience her famed bridal treatment.

Meanwhile, Cora is counting down the days until her own true love returns from the river to make her his bride. But days turn into months and months to years. All the while, Birch Good continues to woo Cora and try to show her that while he is solid and dependable, he can sweep her off her feet.

More than eighty years later, former Air Force Captain Haley Morgan has returned home to Heart's Bend after finishing her commitment to military service. After the devastating death of her best friend, Tammy, and discovering the truth about the man she loved, Haley is searching for her place in life.

When Haley decides to reopen the romantic but abandoned wedding shop where she and Tammy played and dreamed as children, she begins a journey of courage, mystery, and love.

As Cora's and Haley's stories intertwine through time in the shadow of the beloved wedding shop, they both discover the power of their own dreams and the magic of everyday love.
MY THOUGHTS:
Rachel Hauck is one of the few authors who inspires me to read historical fiction…
This story begins in the 1930's with Cora Scott – in Heart's Bend, Tennessee (my favorite state).
More than 80 years later, Haley Morgan returns to Heart's Bend, where the wedding shop has since been abandoned.
Rachel writes a compelling story that draws the reader in until the last page. If you enjoy this story, you'll want to read The Wedding Dress and The Wedding Chapel, too.
Happy reading!
God bless you!
Review © 2016 DJ Mynatt
I received a copy of this book from BookLook Bloggers in exchange for an honest review.
Tagged: BookLook Bloggers, DJ Mynatt, Donna's BookShelf, Rachel Hauck, Review © 2016 DJ Mynatt, The Wedding Shop