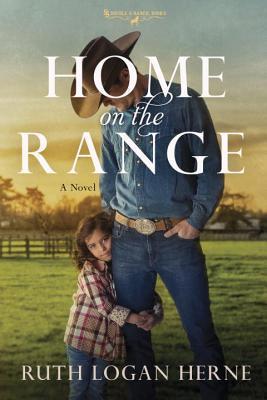 Today I am reviewing Home on the Range, the second book in the Double S Ranch series by the incomparable Ruth Logan Herne.
Here is a brief synopsis:
Can the brother left behind and a woman without hope work together for the good of two precious children?

Nick Stafford stayed in central Washington, working his family's large ranch after his brothers left to pursue other passions but his toughest job is being a single dad.

As a child he watched his father fail at marriage and parenting, so Nick was determined to show him up. He d be a better husband, father, and ranch manager than Sam Stafford ever was.

Despite that commitment, three years after Nick s wife left him, he has a daughter in trouble at school and both of his girls are facing issues that force him to rethink his stubborn plans.

For Dr. Elsa Andreas, life fell apart when tragedy caused her to abandon her family therapy practice and retreat to the backwoods of Gray s Glen. Her school principal sister believes Elsa can guide the Stafford girls and that working with kids will draw Elsa out of her protective bubble.

Summer on the Double S teems with life and adventure. Amid the bounty of God and land, will Nick and Elsa find the courage to build futures based on faith rather than fear?

The Brother Left Behind. . . A Woman Without Hope. Don't miss Home on the Range by Ruth Logan Herne.  Tweet this!
MY THOUGHTS:
Ruth Logan Herne is beyond amazing!
I've read most of her books, and if she continues to amaze me with wonderful stories full of interesting, colorful characters, I'll be forced to continue to read — and enjoy — her books!
Oh yeah!
Back In The Saddle was so much fun to read . . . Home On The Range is every bit as good, although I won't say it's all fun. Ruthy deals with some painful subjects, such as divorce, desertion, plus a panic attack or two thrown in for good measure.
Nick Stafford has made his share of mistakes, but he's determined to do his best, where his two daughters are concerned. Unfortunately, it doesn't appear that his best is enough — his oldest daughter is failing school — and has more attitude than she needs!
Elsa needs to rejoin the world, starting with helping Nick and his girls. Can she overcome her past long enough to reach for a future that includes a family? You won't know until you read the book – and you really should read the book. I'm sure you'll enjoy it as much as I did… to the very end.
Don't miss out on this fantastic new series from Ruth Logan Herne.
Get your copy today!
Happy Reading!!!
God bless you!
Review © 2016 DJ Mynatt
Tagged: DJ Mynatt, Donna's BookShelf, Double S Ranch (series), Home on the Range, Review © 2016 DJ Mynatt, Ruth Logan Herne