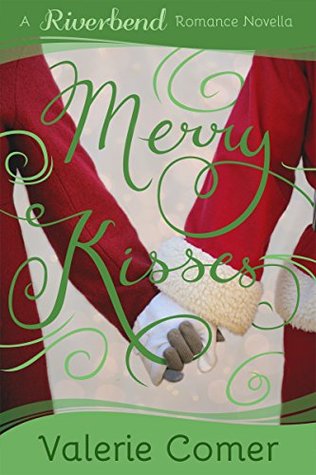 Today I am reviewing Merry Kisses, the fifth book in the Riverbend Romance series by Valerie Comer.
Here is a brief synopsis:
Fired from her retail position for saying Merry Christmas to a customer, Sonya Simmons chafes at the over-commercialization of the season and the difficulties of finding a new job.
If only she'd actually said Merry Christmas instead of Merry Kisses to the tall, good-looking man buying enough toys for at least a dozen children. How embarrassing!

It was fun to fluster the pretty toy store clerk, but Heath Collins, the mall's volunteer Santa Claus, hadn't meant to get her fired.
When his elf assistant comes down with a bad cold, Heath offers Sonya a few days' work, only to discover she believes Santa is nothing but a liar and a fraud instead of an opportunity to make a difference in children's lives.

Can Sonya and Heath embrace each other — opinions, traditions, and all — in time to share merry kisses for Christmas?

The characters from Secretly Yours, Pinky Promise, and Sweet Serenade are back for a visit in this Christian romance novella!
Merry Kisses… a Riverbend Romance novella by Valerie Comer – Tweet this!
MY THOUGHTS:
I love Christmas stories — anytime of the year!
Valerie Comer creates unforgettable characters and events in her stories!
Sonya Simmons isn't allowed to say Merry Christmas at work. Pardon my language, but that sucks! I make it a point to wish people a Merry Christmas (in December), and a Happy New Year (at the end of the year), and blessed weekend (on Fridays), and a good day (EVERY day).
Anyway, she gets fired for telling a customer Merry Christmas, even though she didn't say that — she said Merry Kisses! And she said it to a tall, handsome guy! Well, that part makes sense, right?
Heath Collins has his work cut out for him — trying to bring Christmas cheer to Sonya.
…I could say more, but I'd rather you read it for yourself. In the meantime, enjoy Merry Kisses!
Happy Reading!
And don't forget to check out the intro post to find out how you can WIN!
God bless you!
© 2017 DJ Mynatt
Tagged: DJ Mynatt, Donna's BookShelf, Merry Kisses, Review © 2017 DJ Mynatt, Riverbend Romance (series), Valerie Comer