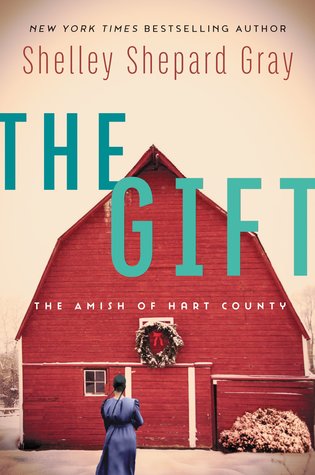 Today I am reviewing The Gift, the third book in The Amish of Hart County series by Shelley Shepard Gray.
Here is a brief synopsis:
The Schwartz family is happy to be spending Christmas on their new farm in Hart County. But when Susanna Schwartz hears gunshots that causes her buggy to overturn, and then her little sister falls through a wooden bridge into the icy creek, it becomes clear from these dangerous "accidents" that someone wants them gone.

Neil Vance has been heartbroken ever since his parents lost their family farm. He knows it's not the Schwartz family's fault, but he can't help but be resentful. Until he meets Susanna. She is kind-hearted and bold, and Neil can't stop thinking about her pretty green eyes.

Neil thinks the accidents are just that, but Susanna's father is convinced the Vance family is responsible. Susanna refuses to believe Neil would do anything to harm her. She's fallen in love with him and knows he is a good man. But her family is ready to pack up and move, and time is running out to uncover the truth before someone gets hurt…or worse.
MY THOUGHTS:
As long as Shelley keeps writing Amish fiction, I'll keep reading it… because I have LOVED each and every one of her books!
I can only imagine how difficult it would be to move to a new home just before Christmas. A place where you don't know anyone and everyone seems unfriendly. Neil Vance knows Susanna Schwartz and her family are not responsible for his family losing their farm. And the accidents. . . well, he thought they were truly accidents. Obviously, I lost myself in the story, but will I find my way back out? Join me and spend Christmas with the families in Hart County.
Shelley truly does give us a story full of love and blessings–one we'll cherish at Christmas time.
Whatever you do, don't miss out on this wonderful story.
Blessings!
Review © 2018 DJ Mynatt
Tagged: Book Reviewer, DJ Mynatt, Donna's BookShelf, Review © 2018 DJ Mynatt, Shelley Shepard Gray, The Amish of Hart County (series), The Gift