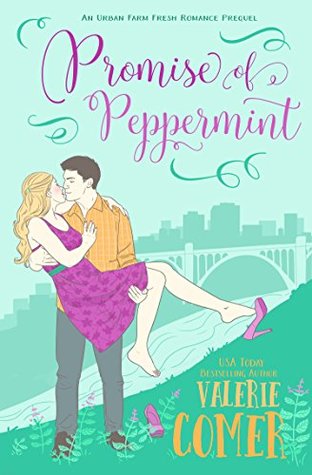 Today I am reviewing Promise of Peppermint, an intro to the Urban Farm Fresh Romance series by one of my favorite authors, Valerie Comer.
Here is a brief synopsis:
Will fear choke out a second chance at love?

When Wade Roper discovers the woman who fled from his proposal four years before now lives in his new neighborhood, he believes God is offering a second chance to win her love.

He vows to take it as slow as she needs but, this time, he won't let her get away.

Rebekah Jackson's fears run deep since a traumatic incident in her youth.

If perfect love casts out fear, then what she'd felt for Wade couldn't have been love. Seeing him again brings all her longings and fears back to the surface.

Can she put her trust in him and in the God who loves them both? Because, while second chances are rare, third chances are all but unheard of.
Promise of Peppermint… the intro to Urban Farm Fresh Romance by Valerie Comer! – Tweet this!
MY THOUGHTS:
Promise Of Peppermint is a sequel to the short story Peppermint Kisses . . . and a prequel to the Urban Farm Fresh Romance series!
I loved this quick read! It's awesome!
It's always enjoyable to visit with familiar characters, such as Rebekah and Wade, who are featured in this story. Valerie's stories are a blessing, with helpful — and healthful — references to locally grown food. This novella connects Valerie's Farm Fresh romances and her new Urban Farm Fresh Romances.
Happy Reading!
God bless you!
Review © 2018 DJ Mynatt
Tagged: Book Reviewer, DJ Mynatt, Donna's BookShelf, Promise of Peppermint, Review © 2018 DJ Mynatt, Urban Farm Fresh Romance (series), Valerie Comer