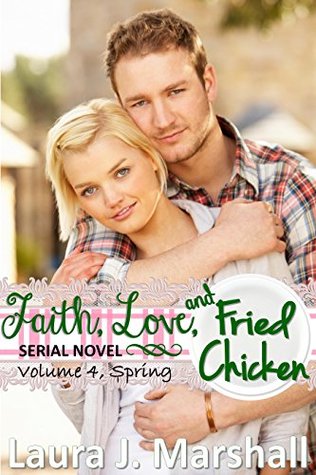 Today I am reviewing Spring, the fourth and final story in the Faith, Love, and Fried Chicken series by Laura J. Marshall.
Here is a brief synopsis:
Marriage plans are in full swing, but circumstances around Jaycee and Dash's wedding have gone from stressful to worrying.

Will the pains of life cause them to postpone for a more convenient time?

Let the peach-perfumed air of spring caress you in this last installment of this southern series as Jaycee finds love.

——

Faith, Love and Fried Chicken includes four stories:
Book 1  Summer
Book 2  Fall
Book 3  Winter
Book 4  Spring
MY THOUGHTS:
Laura J Marshall — I love these stories!
Jaycee and her momma are going shopping this spring. I love shopping, don't you?
Then she's busy helping out her friend Nancy for awhile, who has a sick child. That's okay… Dash is busy helping out at the Hamilton farm in the afternoons.
When Jaycee's best friend, Kitty, arrives in town, Jaycee knows something is wrong, but it takes awhile for Kitty to confide in her friend. And, of course, I'm not gonna tell you anything else. After all, I don't want to spoil the story for you.
So now you have them all… now go get them — you can get a digital copy of each book… or you can get a paperback of the 4-book series. Then, grab a glass of sweet tea, and sit back and read them… and don't stop until you're at the end of book 4.
Happy Reading!
Blessings!
Review © 2018 DJ Mynatt
Tagged: Book Reviewer, DJ Mynatt, Donna's BookShelf, Faith Love & Fried Chicken, Laura J. Marshall, Review © 2018 DJ Mynatt, Spring