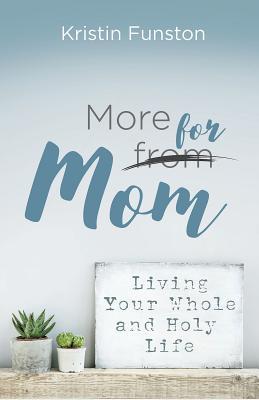 Today I am reviewing More for Mom, Living Your Whole and Holy Life, by Kristin Funston.
Here is a brief synopsis:
More for Mom will encourage women to stop believing the lie that more is needed from them, and start living with the truth that more is available for them.

With real-life talk, humor and convicting biblical truths, Kristin Funston helps hard working mamas to look at each day and each facet of their life to discover what happens when they believe God has more for them than what they think the world needs from them.

And what He has available is a whole and holy life, just waiting to be claimed-a salvation and day-to-day reality complete just as it is. The pieces of each mom's life-the work life, mom life, social life, etc.-are mended together through Christ to complete her one whole life, set apart because of Him.

This book is a stepping stone to help working mothers reset their spiritual and emotional health, habits, and relationship with God. There are performance pressures at work, home, and mind-sets that affect a mom's ability to feel complete and live more closely aligned with God. This book includes the beginning steps for moms to walk in wholeness and holiness by asking God for more.
MY THOUGHTS:
This book is for moms… who give everything they are… to others. Family. Friends. Job. Community.
More for Moms is a huge helping hand to moms everywhere, helping them to accept that they can receive as well as give. No, it's not easy. Too many moms feel that they have to give way more than they receive. Learning to make time for yourself is well worth it.
Happy Reading!
And… I have an extra copy to give away to one of my followers! If you'd like to win a copy of More for Moms, please leave a comment. You could be the lucky winner!
Blessings!
Review © 2019 DJ Mynatt