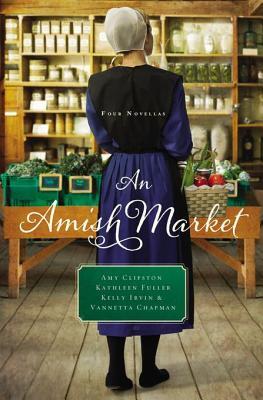 Today I am reviewing An Amish Market by Amy Clipston, Kathleen Fuller, Kelly Irvin and Vannetta Chapman.
Here is a brief synopsis:
All the color and variety of a quaint Amish shop in a charming collection of novellas by four of your favorite authors. Feel free to come in and browse!

Love Birds by Amy Clipston

While Ellie Lapp and her mother are still mourning the loss of her brother, Seth, Ellie starts working at one of the gift shops in town. Seth's friend Lloyd is talented at carving wooden birds, but his father disapproves and expects him to take over the family farm someday. Ellie sees the beauty in Lloyd's creations and insists Lloyd sell the birds in the gift shop where she works. As Ellie and Lloyd spend more time together, they begin to develop feelings for one another, but she accidentally betrays his trust. Will she lose any hope of a future with him?

A Bid for Love by Kathleen Fuller

Every week, Hannah Lynne brings her home-churned butter to the local market. And every week Ezra stops by to purchase some. Hannah Lynne knows not to read too much into it. Ezra is a confirmed bachelor and barely even glances her way, despite any hope to the contrary. But when Ezra bids an exorbitant amount to win the quilt she had her heart set on, Hannah Lynne can't stop her heart from taking over her mind. Could Ezra finally be in the market for love?

Sweeter Than Honey by Kelly Irvin

Shattering a jar of pickled beets wasn't the impression Isabella hoped to make on her first trip to the local Combination Store of Bee County, Texas. But as embarrassed as she was by the accident, she didn't think it warranted the frosty reaction from the handsome manager of the store, Will Glick. As she soon learns, though, Will's heart has been broken one too many times. And now, for some reason, Isabella finds herself determined to be the one to repair that broken heart and renew his faith in love.

Love in Store by Vannetta Chapman

Stella Schrock works at the Old Mill in Nappanee, Indiana, with new employee David Stoltzfus, a recent widower. When strange happenings begin occurring around town, it appears as if someone wants to close the mill. Stella and David have to work together to solve the mystery of what is happening at the Old Amish Mill, and in the process they might just find that God has more in store for their future than they would ever have dreamed possible.
AN AMISH MARKET — Great stories by Amy Clipston, Kathleen Fuller, Kelly Irvin and Vannetta Chapman. – Tweet this!
MY THOUGHTS:
I have enjoyed each collection of novellas in the Amish compilations published over the past few years! The authors always entertain me with a featured subject, and each story fits perfectly in the book.
An Amish Market is another great compilation. I was blessed by each of the stories, as I'm sure you will be.
In Amy Clipston's Love Birds, Ellie is determined to support herself and her mother, hiding the truth of their situation from her next-door neighbor Lloyd and others in the community. But when her desperation causes her to betray him, will these two ever have a chance to be together? Read their story and find out…
Kathy Fuller's A Bid For Love was too cute! I could just picture Ezra with a freezer full of butter. But when Ezra tells Hannah he's made a mistake, will he break her heart? I was sitting on the edge of my seat, refusing to put down the book until I finished this story… and all I can say to you is, "Don't miss this story!"
Kelly Irvin's Sweeter Than Honey is my favorite story in this compilation. Grumpy, fussy old Will is as prickly as a cactus. When Isabella makes a mess – that Will cleans up – the first time she meets him, she's certain he wants nothing to do with her. I was cheering her on, and hoping she would learn from her mistakes. After all, the small community has already lost too many families – and young adults. Will Isabella be able to find a home in Bee County? Read the story and find out…
Last, but certainly not least, is Vannetta Chapman's Love In Store. Vannetta is another favorite Amish author of mine, and she wrote a wonderful story. I identified with Stella more than any of the other characters in this compilation, and I was over-joyed when she was brave enough to help David Stolzfus solve the mysterious happenings at the Old Amish Mill. Don't stop reading until you've read this story!
God bless you!
Review © 2016 DJ Mynatt

I received a copy of this book from The Fiction Guild in exchange for an honest review.