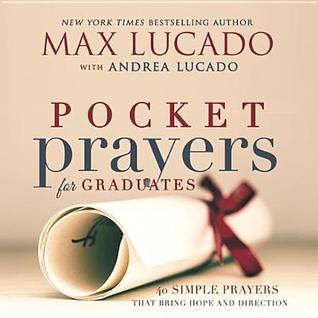 Today I am reviewing Pocket Prayers for Graduates  by Max Lucado and Andrea Lucado.

Here is a brief synopsis:

Graduation is one of life s most exciting milestones.

It can also be a source of uncertainty and anxiety.

What comes after graduation day?

More education? A career? Starting a family?

Often this time in life can bring more questions than answers, but Max Lucado offers hope and direction by pointing to the Answer to all of life s question.

Pocket Prayers for Graduates includes forty scriptures and guided prayers written especially for those considering their futures post-graduation."
MY THOUGHTS:
Max Lucado writes with humor, compassion, and respect.
He speaks of dozing off, his thoughts scattering this way and that. He says he thinks of a thousand things he needs to do, but forgets the one thing he's trying to do — pray.
He speaks of the Bible, the disciples and how they asked Jesus to teach them to pray.
Then Max, with the help of his daughter, Andrea Lucado, has chosen 40 Bible passages, and written out 40 specific prayers — specificially for those preparing to graduate . . . high school, college, or higher.
They're written for those who are preparing to face the world!
Graduates, take these prayers with you . . . they will help you through some rough spots, and make the good days seem even better!
Happy Reading!
God Bless You!
Review © 2016 DJ Mynatt