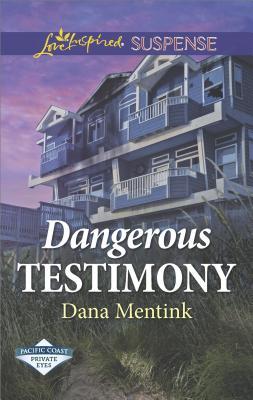 Today I am reviewing  Dangerous Testimony, the fourth book in the Pacific Coast Private Eyes series by Dana Mentink.
Here is a brief synopsis:
LAST WITNESS STANDING

Four weeks before she's set to testify at a gang murder trial, someone is determined to make sure that Candace Gallagher Andrews never takes the stand.

When nowhere is safe for the private investigator or her little girl, Candace turns to the only person she can trustlongtime friend and former navy SEAL Marco Quidel.

For Marco, protecting Candace is not just another duty. As the trial date nears and the killer stalks ever closer, Marco knows fear for the first timethe fear of losing Candace and her daughter.

But while Marco begins seeing Candace as more than just a friend, her late husband's memory is never far from her mind.

So he must keep Candace alive—and not get emotionally involved—long enough to put away a killer.
MY THOUGHTS:
Candace Gallagher Andrews is shocked when she witnesses a murder…
Whew… exciting stories!
In this fourth book of the series, tension mounts as Jay Rico convinces Candace that her entire family is in danger unless she does exactly as he says. . .  and she's determined to protect her family. I'd love to say more, but I'm afraid if I do, I'll give too much away! Get this book! Read it! Today!
Dana Mentink creates complex, interesting characters – and if you haven't read the other stories in this series, let me encourage you to do so… you can read just one – or all four in sequence – but just do it!
Happy Reading!
God bless you!
Review © 2018 DJ Mynatt
PS… Dana, I didn't give away Marco's nickname — but I love it!