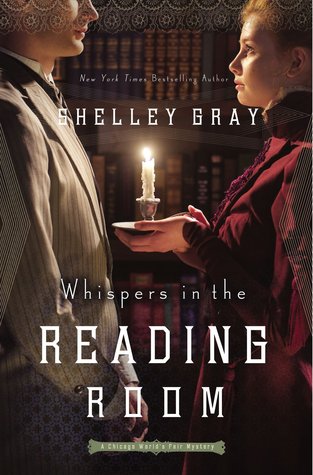 Today I am reviewing Whispers in the Reading Room, the third book in the Chicago World's Fair Mystery series by Shelley Gray.
Here is a brief synopsis:
Lydia's job at the library is her world—until a mysterious patron catches her eye . . . and perhaps her heart.

Just months after the closure of the Chicago World's Fair, librarian Lydia Bancroft finds herself fascinated by a mysterious dark-haired and dark-eyed patron. He has never given her his name; he actually never speaks to a single person. All she knows about him is that he loves books as much as she does.

Only when he rescues her in the lobby of the Hartman Hotel does she discover that his name is Sebastian Marks. She also discovers that he lives at the top of the prestigious hotel and that most everyone in Chicago is intrigued by him.

Lydia and Sebastian form a fragile friendship, but when she discovers that Mr. Marks isn't merely a very wealthy gentleman, but also the proprietor of an infamous saloon and gambling club, she is shocked.

Lydia insists on visiting the club one fateful night and suddenly is a suspect to a murder. She must determine who she can trust, who is innocent, and if Sebastian Marks—the man so many people fear—is actually everything her heart believes him to be.
MY THOUGHTS:
Lydia Bancroft has been watching a mysterious patron of the library fascinating. He obviously loves books, but so far she doesn't even know his name. When she finds herself a murder suspect, can she turn to him?
Shelley Gray is a multi-talented author, published in both Amish fiction and Historical fiction novels. Although WHISPERS IN THE READING ROOM is the third book in the series, aptly named A CHICAGO'S WORLD FAIR MYSTERY, the book can easily be read alone, without the others in the series.
Shelley does an amazing job with interesting characters, a well-paced story, and an intriguing plot.
If I'm to be honest with you, most historical fiction doesn't appeal to me, so it's more difficult to read and review. However, I think if you enjoy historical mysteries, you'll definitely enjoy WHISPERS IN THE READING ROOM.
Happy Reading!!!
Blessings!
Review © 2015 DJ Mynatt
{I received this book from The Fiction Guild in exchange for an honest review}