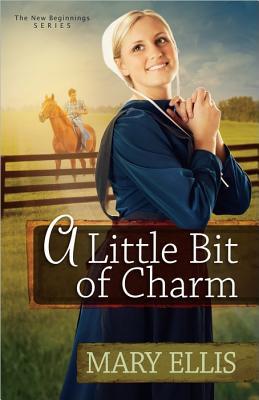 Today I'm reviewing A Little Bit of Charm, the third book in the New Beginnings series, by Mary Ellis.
Here is a brief synopsis:
After the death of her parents and then watching both of her older sisters find happiness in homes of their own with husbands who adore them, Rachel King yearns for a new beginning.

Her cousin Sarah lives near a thoroughbred stable in Kentucky, and working around beautiful horses is Rachel's dream come true.

She leaves Lancaster County to find a job at Twelve Elms Stables and believes God has answered her prayers.

And then she meets Jake, an attractive and charming Englisch man. At first she refuses to go out with him, but he eventually convinces her to give him a chance.

When Amish men who also wish to date Rachel start encountering strange mishaps, she wonders if Jake is really who he seems to be.

What does a young woman do when her heart is pulled in two directions?
A dream come true… a loss like no other… is the price of happiness worth the cost? – Tweet this!
MY THOUGHTS:
Oh, how I hate to see this series end…
After getting to know Amy and Nora, now we get to know Rachel. After losing their parents in a house fire, they've each grown and matured – and their journeys have taken them from Lancaster to Harmony, Maine… Paradise, Missouri… and Charm, Kentucky.
I'm hoping Mary will write another sequel with Beth, the youngest King daughter – it would also be a great time to catch us up on what's happening with Amy, Nora and Rachel, too.
Mary Ellis did such a fabulous job creating four unique individuals – and how each finds their faith, friends, and husbands. I'm not sure I would have thought of sending them to such different locations, but it certainly worked out perfectly for each one.
Amy may have not willingly chosen the colder climate, but she's happy in Maine; Nora is much happier in Paradise, with a climate much like the one she grew up knowing; Rachel is determined to settle in Kentucky, and is very happy in Charm.
I've said it before, but it bears repeating… I find myself wishing I could live amongst these families. But I can visit Amish and Mennonite friends in nearby communities and that's even better than reading about them. My grandchildren often urge us to plan a visit – they enjoy their visits so much, they hate to leave.
Mary Ellis' books remind us that, while the Amish aren't perfect (as Nora would be quick to point out), they are trusting, caring, encouraging, supportive – something I've missed for much of my life. I appreciate being reminded that we are all loved by God. It doesn't seem to matter to Him if we're Amish, Mennonite or Christian (or on a different path).
If you enjoy reading Amish fiction, please don't miss this wonderful series!
What does a young woman do when her heart puts her faith in jeopardy? – Tweet this!
And don't forget to click below to find out how you can enter Mary's GIVEAWAY contest!
God bless you!
Copyright © 2013-2015 DJ Mynatt