Introducing . . .
The Appalachian Blessings
Appalachian Serenade
(A FREE eBook that kicks off the series)

This short story prequel by debut author Sarah Loudin Thomas introduces readers to Wise, West Virginia — a small town nestled in an Appalachian valley where the everyday miracles of life and faith play out in stories of healing, hope, and love.
Delilah Morrissey has always wanted to be a mother, but when she becomes a young widow, that dream now seems farther away than ever. Unable to continue to live alone in Chicago, her only option is to accept her sister's offer to move in with her family back in West Virginia. Will Delilah have the faith to pursue a new dream–even if it means giving up the old?
As a bonus, this also contains an excerpt of Miracle in a Dry Season, the first full-length novel in the Appalachian Blessings series — a book New York Times bestselling author Debbie Macomber called, "Wonderful, simply wonderful."
Miracle in a Dry Season
In a Drought, It's the Darkest Cloud That Brings Hope…
It's 1954 and Perla Long's arrival in the sleepy town of Wise, West Virginia, was supposed to go unnoticed. She just wants a quiet, safe place for her and her daughter, Sadie, where the mistakes of her past can stay hidden.
But then drought comes to Wise, and Perla is pulled into the turmoil of a town desperately in need of a miracle.
Casewell Phillips has resigned himself to life as a bachelor…until he meets Perla. She's everything he's sought in a woman, but he can't get past the sense that she's hiding something. As the drought worsens, Perla's unique gift divides the town in two, bringing both gratitude and condemnation, and placing the pair in the middle of a storm of anger and forgiveness, fear and faith.
Until The Harvest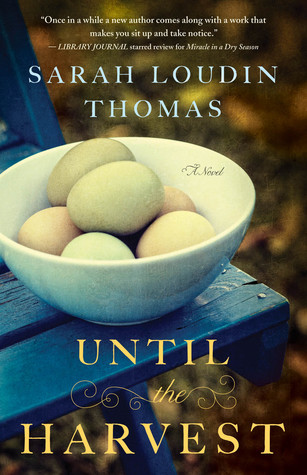 "Once in a while a new author…makes you sit up and take notice."–"Library Journal"
When a family tragedy derails Henry Phillips's college studies, he's left unmoored and feeling abandoned. Although Henry tries to find escape in bad company, the only things that can tamp down his anger and grief are the family farm, his fiddle, and sweet but unusual pre-teen Mayfair Hoffman.
Unfortunately, Mayfair's older sister, Margaret, with the freckles and cute, turned-up nose, has the opposite effect. Worse, she's his grandmother's housekeeper and helper, so she's always around and ready to push his buttons. At first he thinks she doesn't care about his loss, before beginning to understand she's facing her own struggles.
Mayfair's health and unique gift sit at the heart of those worries, and Henry and Margaret soon find themselves relying on each other as both Henry's future and Mayfair's life are put at risk.

And don't forget to click below to find out how you can enter Sarah's GIVEAWAY contest!
God bless you!
© 2015 DJ Mynatt
Tagged: @sarahannethomas, Appalachian Blessings, Appalachian Serenade (novella), DJ Mynatt, Miracle In A Dry Season, Sarah Loudin Thomas, Until The Harvest